Rice Export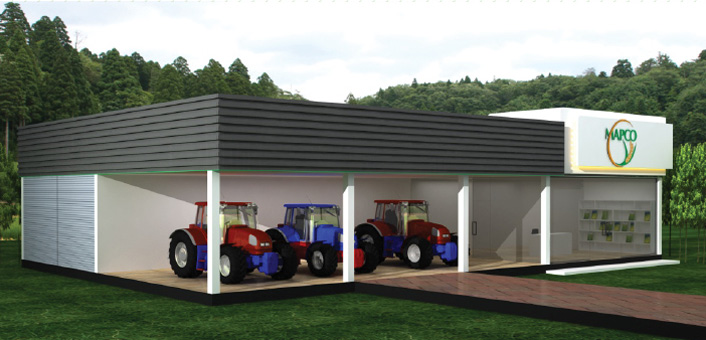 MAPCO exports Myanmar White Rice to Japan, EU countries, Indonesia, China, African and Middle East countries. Our products are in various grades such as 5% Broken, 10% Broken, 15% Broken, 25% Broken and 100% Broken. Our packing sizes can be customized such as 50 KG, 25 KG, 5 KG or even as per the different requirement of the Buyers.

MAPCO is always ready to offer High Quality products at the most reasonable and competitive price. We supply mostly on FOB term, however, we can supply CFR and CIF term depending on the requirements and conditions. We accept payment by both Letter of Credit and TT, from the international banks.

Myanmar Standard Specifications are attached: Myanmar Rice Specification

MAPCO, in collaboration with our strategic partner, Mitsui & Co, had initiated and pioneered in exporting Myanmar White Rice 5% (Super Quality) to Japan, in 2014 and in 2015. This initiative marks a historical and remarkable step forward as Myanmar has successfully resumed rice export to Japan in 2014, after more than 40 years of "no rice export to Japan".

MAPCO also initiated and pioneered in arranging rice export to China in 2015. The first official rice export was successfully done by MAPCO in collaboration with COFCO of PR China. This again was a historical and remarkable achievement for Myanmar rice industry.
Rice Export by Myanmar (MT)
| Fiscal Year | Rice MT |
| --- | --- |
| 2011-12 | 1018550 |
| 2012-13 | 1454350 |
| 2013-14 | 1233367 |
| 2014-15 | 1812332 |
| 2015-16 | 1473655 |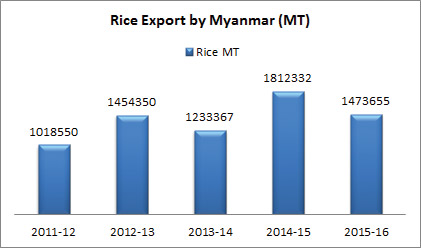 Rice Export Revenue by Myanmar (Million US$)
| Fiscal Year | Million US$ |
| --- | --- |
| 2011-12 | 367 |
| 2012-13 | 565 |
| 2013-14 | 461 |
| 2014-15 | 645 |
| 2015-16 | 618 |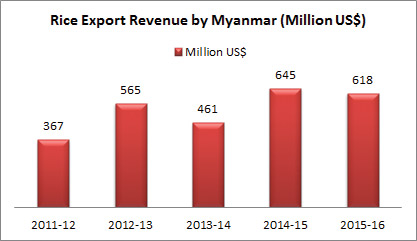 Rice Export by Myanmar - Border Trade (MT)
| Fiscal Year | Border Trade (MT) |
| --- | --- |
| 2011-12 | 336105 |
| 2012-13 | 845525 |
| 2013-14 | 842550 |
| 2014-15 | 1341636 |
| 2015-16 | 1231594 |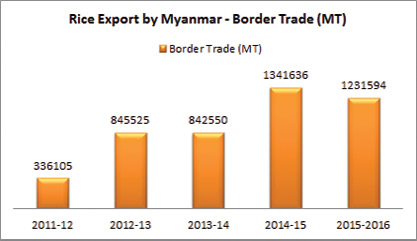 Rice Export by Myanmar

| Fiscal Year | Border (MT) | Normal (MT) |
| --- | --- | --- |
| 2012-13 | 845525 | 608825 |
| 2013-14 | 842550 | 390817 |
| 2014-15 | 1341636 | 470696 |
| 2015-16 | 1231594 | 242061 |