Contract Farming – An innovative business model
MAPCO works closely with Farmers, who are the primary producers of Paddy rice.
Presently, MAPCO introduces the following innovative Contract Farming Model at Naypyidaw Council Area in Central Myanmar and this model is being expanded and introduced in other parts of Myanmar, where MAPCO has rice mills and ASCs.
Why Contract Farming?
Production Perspective
To ensure the "consistent supply of raw materials" to the rice mill – access to raw material base
Agribusiness Perspective
To specialize and involve in a sustainable and comprehensive approach which promotes supply chain and value chain mechanism

To do business in overall agricultural inputs, such as agrochemicals and other services, which are beneficial for the Company, for the Farmers and for the Nation
Quality Control and Quality Assurance Perspective
To ensure the better quality of raw material, quality control "from seed to mill"

To promote "traceability" and "food safety"

To deliver "healthier food" to customers
Rural Development Perspective
To contract with small holder farmers with pre-determined price and buy-back guarantee so that the farmers can enjoy "guaranteed minimum income" and access to working capital

To support rural agriculture and agribusiness environment

To provide small holder farmers with "access to market" , "access to technology" and "access to finance"

To promote biodiversity and ecosystem by introducing Good Agriculture Practices and Integrated Pest Management Practices
Key Considerations
Location
Nearness to the Rice Mill (Factory) – first priority (logistic advantage)

Rain-fed as well as irrigated farm land – better (double or triple cropping area)

Farm land with better communication accessibility – top priority

Continuous and sizeably large area at one location
Operation
Community-based Peers' Groups (each Farmers' Group to have maximum 10 farmers, minimum 5 farmers, maximum 100 acres)

Peers' Pressure – one way to manage risks

Contract between Company and Farmers' Groups

Each Farmers' Group shall have a leader, a secretary and a finance person – to be designated
Management
To manage the Process by Public-Private Partnership Framework (MOAI –public, Company-private)

the Company will have to form a Project Team, comprising Project Manager, Asst Project Manager, Project Supervisors & Financial Supervisors

To inspect the field at least once a month – joint inspection between MOAI and the Company

To hold the meeting with Leaders of Farmers'Groups at least 2 times during the validity of the Contractment Practices
Project Implementation Steps & Budgeting Sensitivities
Project Implementation Steps & Budgeting Sensitivities
To identify "Potentiality of Achievable Target Yield" within the specific region (to record baseline data before implementation)

To mutually agree on Pre-determined Price

The Contract shall be on the basis of Achievable Target Yield (ATY) and Pre-crop Finance shall not exceed the pre-determined price of the half amount of the ATY

Pre-crop Finance – to be in the form of "in kind" "not in cash" and may include financing for fertilizer, for tractor services, for seed etc

Pre-crop Finance – to be paid out to ASC and to MJA

Near Harvest and Harvest time – very critically important and must keep in touch with Leaders of the Groups

Standards and measurements for weighing – to be very systematic and accurate

Basic Budgeting Sensitivities – Operation Cost cannot exceed 5% of the Total Pre-determined Price

Capital Cost – to be considered injecting 25% of the Total Pre-determined Price and the remaining 75% at the Near Harvest time
Project Team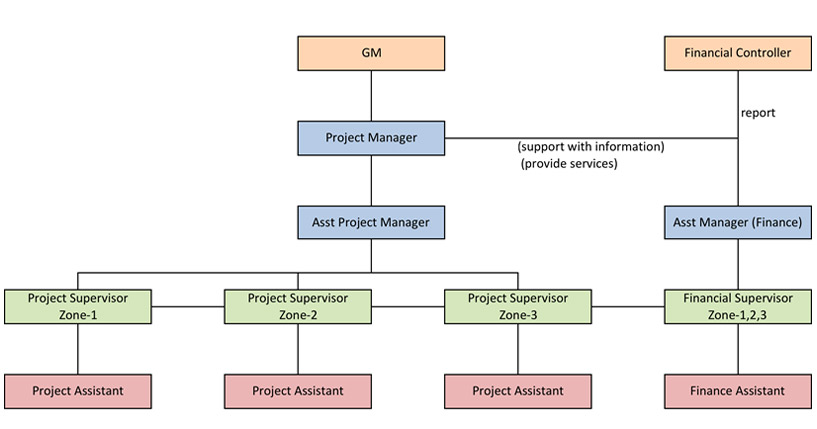 The Map of Nay Pyi Taw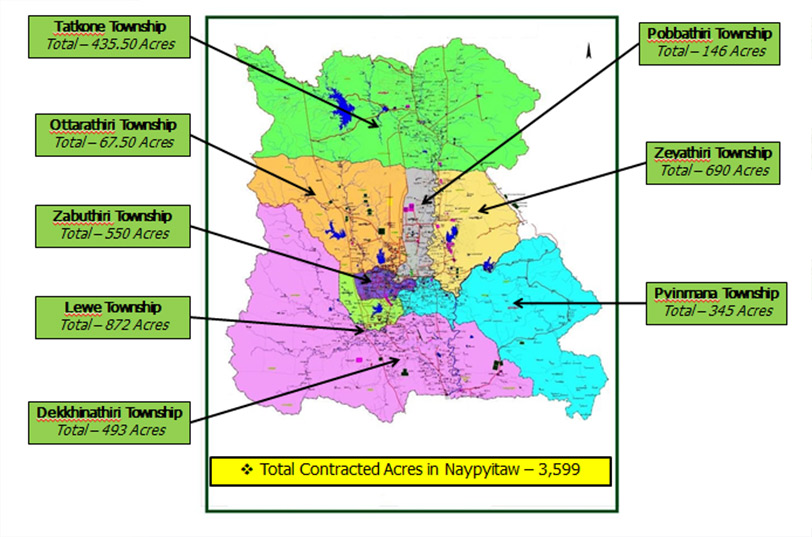 Organizing the Farmers at Naypyitaw consist of (8) Townships
Contracting with the Farmers
Providing Seeds, Agro Chemicals, Tractor and Combine Harvester Services to the Farmers