Our Farmers
These have hampered the farm mechanization endeavors specifically to the typical smallholder farmer, subsequently resulting in reduced crop yield, which impacts the farmer's livelihood.
Our Farmers: The pillars of Myanmar
 The Myanmar Agribusiness Public Corporation (MAPCO) is the business arm of the Myanmar Rice Federation (MRF). MAPCO is formed to mobilize public savings and to foster broader investments in the agriculture sector and other agro-based industries in Myanmar. 
 MAPCO's corporate agenda are:
1. Food security
Sustainable food security
Private-sector led rice stockpile program
2. Business operations
Investment in agribusiness
Contract farming
3. Sustainable market development
Policy advocacy
Price & supply stabilization
The agriculture sector is central to Myanmar's economy, which accounts for about 40% of GDP, as well as provides employment to two-thirds of the 50-million population. Up until the 1950s, Myanmar was the biggest rice exporter in the world, and was even termed "The Rice Bowl of the World'. Now, with a fresh new outlook and support from our friends globally, Myanmar is ready to revive the agriculture sector back to its vibrant days.
At the core of the agribusiness supply chain lies the most important stakeholder – the farmers. Lack of agro-technologies and machineries has contributed to crop yield reduction and has significantly impacted the farmers' livelihoods, creating a vicious cycle.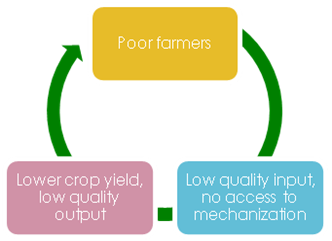 Three of the key issues faced by the farmers in Myanmar are:
Lack of financial adequacy to access farm mechanization
Insufficient knowledge of and understanding in agro-technologies
Inefficient transportation network, communication channel, and storage facilities